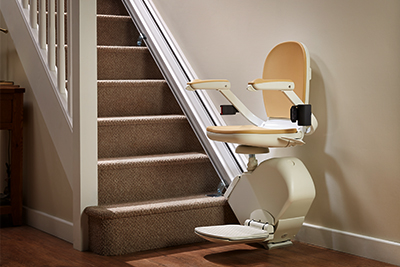 Whatever you're buying, from a washing machine to a new car, there will always be certain features that should be essential or that matter most to you.
If you're replacing an item you've used before, chances are you'll have a good idea what you're looking for, but if you're buying a product you've never used, how do you know what features are most important? That's usually the case when someone is buying a stairlift, so to help you decide, here are 10 stairlift features to look for when purchasing a stairlift:
1. It is crucial that your stairlift is fitted with safety sensors. These sensors will detect any obstruction left on the stairs and automatically cut off power to the lift until the obstruction is removed. Our Acorn Stairlifts have multiple safety sensors on the footrest and carriage for maximum safety.
2. A swivel seat that can lock into position makes it much easier to get in and out of the stairlift, especially at the top of the stairs where safety is most important. All of our Acorn Stairlifts have large, easy-to-reach paddles on either side of the seat – a gentle push allows it to swivel, locking securely into place, making it easy to get in and out. Once turned, the swivel seat also acts as a safety barrier at the top of the stairs.
3. A smooth ride, with no sudden jolts, is better for you and for your stairlift. Acorn Stairlifts are designed to glide seamlessly along their straight or curved rails, starting and stopping so smoothly that you'll hardly even notice.
4. A stairlift running off powerful rechargeable batteries means you'll never be left stranded in the event of a power outage. The batteries are charged when the stairlift is 'parked' at its charging stations at the top or bottom of the stairs. Acorn Stairlifts pioneered this innovation and still leads the field in stairlift battery technology.
5. Intuitive and user-friendly controls make a stairlift so simple to use. Acorn Stairlifts have large directional paddles fitted to both arms of the carriage, helping Acorn become the first and only stairlift company awarded the Ease-of-Use Commendation from the Arthritis Foundation.
6. Just as if you're traveling in a car, you should always 'buckle up' on your stairlift. All Acorn Stairlifts have strong and reliable safety belts fitted, designed for ease of use and gives you and your loved ones extra peace of mind.
7. A clear and easy-to-read digital display will help you diagnose any simple changes in your stairlift's status. This is a standard feature on all Acorn Stairlifts; referring to the clearly written user manual lets you understand what the display is telling you. In most cases you can rectify it yourself, or call Acorn's helpline for expert help.
8. A remote control allows you to call for the stairlift if it isn't where you need it to be – an especially useful feature if more than one person in your home is using the lift. Acorn Stairlifts come with two remote controls as standard, one for the top of the stairs and one for the bottom.
9. A stairlift with a slim foldaway design makes it easier for other people in your home, or visitors, to use the stairs in the regular way. The seat, arms and footrest of Acorn Stairlifts all fold up neatly and out of the way when not in use, and the folding process can even be automated at the push of a button if you prefer it.
10. Your stairlift should blend with the décor of your home and be as unobtrusive as possible. In addition to the foldaway design of Acorn Stairlift carriages, our stairlift rails are designed to be as discreet and non-intrusive as they can be. Made from lightweight but strong aluminum, with an attractive rust-free finish, they take up the minimum of space and fix to the stairs, not the wall, so there is no messy and disruptive structural work in installing your Acorn Stairlift.
Acorn Stairlifts have all the features that you need, and none that you don't, making them reliable, safe, easy to use and cost-effective. One other feature you should definitely look for is excellent aftercare, with a nationwide network of service engineers on call whenever you may need one. Again, this is a box which is well and truly 'ticked' by Acorn Stairlifts.
For more information, please give us a call at 1-866-873-6574 today.