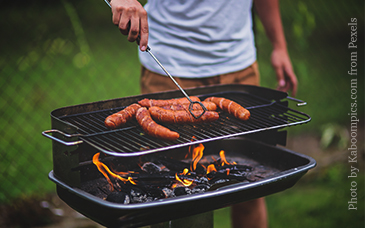 Summer is approaching and now that winter will be officially over, plans to be out in the sun will be in place. Summertime can call for treats we might not usually indulge in, more physical activities than we had in the winter and summer vacations. But what does that mean or those with diabetes? According to DiabetesSelfManagement.com, the warm weather is the perfect time to pay close attention to your diabetes.
It's summer, the kids are out of school, family is visiting, cookouts and picnics are happening. Sometimes those events call for sweet treats and junk food, and having diabetes does not mean you can't be a part of the festivities, it just means you have to be careful with your carb intake and portion sizes. DiabetesSelfManagement.com suggests trying these tips if you find yourself wanting to indulge in summertime foods:
1. Go ahead and eat a hamburger or hotdog. If you have control over the cooking, try buying a lean ground beef burger/hotdog or turkey breast to cut down on the fat and calories.
2. Know your carb goal and try to keep in that range. Often times hamburgers and hotdogs come on a bun and if you have to, eliminate the bun to save on carbs.
3. Drink infused water. If drinking water is not refreshing enough in the upcoming hot months, add lemon, lime, cucumbers and mint to your water for a more refreshing no-calorie, no-carb drink.
4. Eat veggies! They are a good way to fill you up during a meal without the extra added carbs.
5. Make your own kale chips. Instead of snacking on potato chips, which are high in fat and carbohydrates, drizzle olive oil and salt on some freshly washed kale and bake them.
6. If you're craving sweets, try a frozen fruit bar or a sugar-free popsicle.
7. Be aware of frozen coffee drinks. Even though it will be hot outside, be cautious of the frozen coffee drinks you are consuming. Some of them have loads of calories! Instead, make your own iced coffee or tea and include your own sweetener.
When it comes to physical activity in the summer time, it is important to make time to get out and do some exercise at least once a day. The sun can be brutal, so make sure to wear sunscreen and aim to do any physical activity as early as possible. It is less hot earlier in the day, so try and exercise before the sun gets too hot. Make sure you're checking your blood sugar levels before and after you exercise, and stay hydrated! Exercising is important, especially for those with diabetes, so make sure you're doing all the right measures to keep you as comfortable and healthy as possible.
If you are someone who travels to see family over the summer, make sure you are still monitoring your blood levels and keeping your insulin away from the heat. Do not leave your insulin in the car or in direct sunlight. Keep it in an insulated case to keep it safe and out of the sun.
With some careful planning, summer can be fun even for those with diabetes!
Please consult your doctor before making any significant changes to your diet/lifestyle.
Source: https://www.diabetesselfmanagement.com/blog/summertime-hazardous-for-people-with-diabetes/