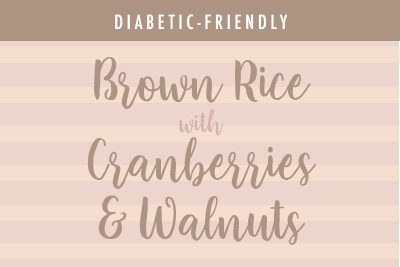 What we eat is important to live the most healthy life possible, and the same goes for those with diabetes. Around the holidays most foods and sweets are high in fat and sugar, which can limit what diabetics can eat. That's why Diabetes Self Management has a diabetic-friendly side dish to try out this holiday season.

Ingredients
- 14.5 oz (1 can) of fat-free reduced-sodium vegetable or chicken broth
- 3/4 cup of uncooked brown rice / basmati rice
- 1/4 cup of water
- 1/4 tsp of salt
- 1/4 cup of dried cranberries
- 1/4 cup of coarsely chopped toasted walnuts*
- 1/8 tsp ground cinnamon (optional)
Instructions
1. Combine broth, rice, water and salt in a large pan. Bring it all to a boil over high heat.
2. Reduce heat. Cover and simmer for 20 minutes.
3. Stir in cranberries (and cinnamon, if desired). Cover and simmer for 20-25 minutes or
until the rice is tender.
4. Sprinkle with walnuts before serving.
*NOTE: To toast the walnuts, spread them evenly on a baking sheet. Preheat oven for 350 degrees and bake for 8-10 minutes or until golden brown, stirring frequently.
GLUTEN-FREE OPTION: To make this a gluten-free dish, read all labels carefully and use gluten-free vegetable broth.
This makes about 5 1/3 cup servings.
Nutritional Facts (per 1/3 serving)
Calories: 172
Carbohydrates: 29g
Protein: 3g
Fat: 5g
Saturated Fat: 1g
Cholesterol: 0mg
Sodium: 162mg
Fiber: 2g
Source: https://www.diabetesselfmanagement.com/recipes/sides/brown-rice-with-cranberries-and-walnuts/