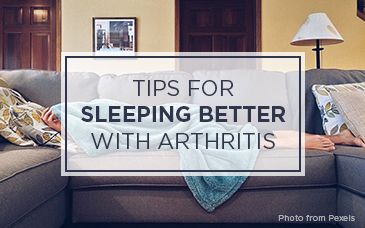 Sleep is essential to healthy living. Between running errands, going to work or staying up late to finish any unfinished business, sleep can be difficult to achieve. We need plenty of rest to make sure we are well-rested and ready for the day to come, but what happens to sleep for people dealing with the pain of arthritis? Arthritis adds pressure and pain to certain joints which can make it difficult for some to get to sleep.

If you are someone living with arthritis and have trouble going to bed or staying asleep, below are a few tips to help you prepare your body for bedtime.
Avoid naps! Although it may feel good and seem like a good idea, napping during the late afternoon can interrupt your sleep pattern and make it difficult to lay down later in the night.

Exercise. People say that when you exercise regularly you tend to have more energy. Daily exercising can also help with sleep. Doing even just a small amount of exercising can help put you to sleep - just make sure to not do it too close to bed time as the increase in body temperature and heart rate may stop you from falling asleep.

Watch your diet. Consuming heavy or fatty foods/drinks such as chocolate or coffee too close to bedtime can keep your brain stimulated and awake.

Create a schedule. To fall asleep the body needs to calm down. Try reading a book before going to bed to help you relax. Creating a schedule for doing these things or when to go bed helps train your body's internal clock to know when to wind down.

How you sleep is just as important as what you need to do to prepare for bed. With the aches and pain of joints that comes with having arthritis, getting comfy can be hard and in result doesn't allow our bodies to get a full rest. Below is a few tips on what you can do if you can't seem to get comfy because of the pain.
Pillows. Pillows are not meant to only be used under our heads, they have many different uses! If you need more pillows to get comfy, don't be scared to use them. Putting pillows under arms, between legs and even in between ankles can help relieve pain.

Sleep with the right mattress. Finding the right mattress helps with joint pain. Sleep is important for our health, so go out and pick a mattress that will best help get you the most sleep.

Elevate your legs. Arthritis brings pain and inflammation to the joints. Try putting a pillow in between your legs or swollen joints when sleeping.

Use layers. Every body reacts differently to certain medicines. If you take a medication that may make you feel a bit hot, use light layers on your bed such as sheets or light sweat pants that are easily adjustable and easy to take on or off to keep you feeling comfortable throughout the night.

Add heat. Keep an electric blanket by your bedside. Heat helps relieve the pain in joints. If you start to feel pain in your joints, wrap the heated blanket on before going to sleep.
Everyone has their own way of getting to sleep, but if you are someone who is having a hard sleeping, try a few of the tips listed above. Please consult your doctor before trying any of these tips, or if sleep is a chronic problem.
Source:
http://blog.arthritis.org/living-with-arthritis/five-ways-get-better-sleep-arthritis/?utm_source=facebook&utm_medium=social&utm_campaign=brand
http://blog.arthritis.org/living-with-arthritis/5-ways-make-bed-joint-friendly/?utm_source=facebook&utm_medium=social&utm_campaign=brand