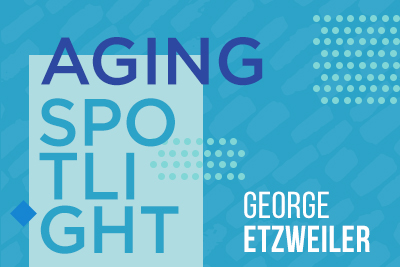 George Etzweiler couldn not run a mile until he was 50 years old. Now, 48 years later, he is setting records by running up mountains. In the past year he has set the all-time record for the Mount Washington Road Race in New Hampshire. This race a 7-mile run straight up the highest peak of the mountain, reaching 4,700 feet!

George explains that he got into running almost 50 years ago. His old colleague at the time was reading Kenneth Cooper's book, Aerobics and encouraged George to read it as well. After reading this book, he joined his friend in a mile run and he enjoyed running so much and felt great after doing it, he decided to stick with it.
He encourages everyone to move around and get your pulse rate up a bit each day for at least 30 minutes a day.

Listen to this motivational video by Growing Bolder, about George and his love for running.
Growing Bolder is a media company that shines light on inspirational stories on people across America who are standing up against aging stereotypes and proving that age really is just a number.
Source: https://www.growingbolder.com/george-etzweiler-3055547/