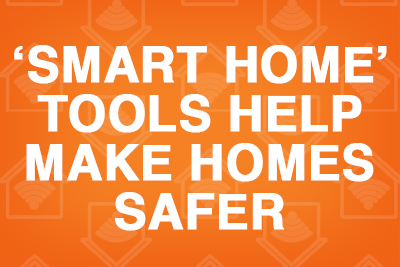 With everything that goes on in our day to day lives, sometimes we forget to do the things we are accustomed to doing everyday like locking the door or turning off the lights. Thanks to technology and home automation tools, you wont have to worry about the light you left on or a door you didn't lock.
Below are a few smart home tools you may want to consider putting into your home, or in the home of a loved one.
Smart Security System
It was only several years ago that security systems had to be hard wired in and could take hours to install and set up. Today, we have smart security systems that are easy to install and use. Most security systems now allow you to keep track of your home through door cameras with a touch of a button on your phone!

Smart Doorbell
Having a smart doorbell system installed into your home allows you to look at a camera to see who's at the door if the doorbell happens to ring. Some doorbell systems even have a two way communicator, making it easy to hear and speak to your guests without opening the door.

Smart Lighting
Technology has made turning on and off the lights easier. Smart lighting lets you control the lights by turning them on or keeping them on a timer (so you're not in the dark when you get home) all controlled from an app on your phone.

Smart Thermostat
Smart thermostats are a good way to save on electricity (and money). They're designed to adjust to your preferred temperatures and works to keep your home at the right temperature.
Source: https://www.aplaceformom.com/caregiver-resources/articles/cutting-edge-products-for-seniors