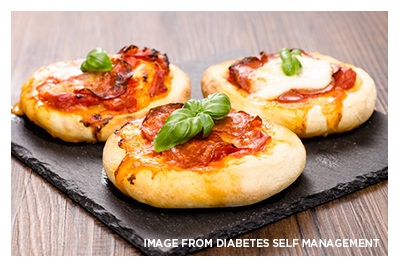 Superbowl LIV is this Sunday and with all the festivities happening, it can be challenging to find healthier versions of your favorite snacks for someone with diabetes.
Thanks to Diabetes Self Management, below is a great yummy, diabetic-friendly snack to bring with you to watch the big game.
Prep time: 20 minutes
Cook time: 20-25 minutes
Ingredients:
Cooking spray
1lb ground beef
1 cup pizza sauce
1 can (12oz) biscuits + 1 can (4.5oz) biscuits (15 biscuits total)
4oz finely shredded light mozzarella cheese
1/4 cup finely diced green pepper
1/4 cup finely diced red pepper
Instructions:
Preheat oven to 375°F. Coat muffin tins with cooking spray and set aside. (Do not use paper or foil liners.)
Brown and drain ground beef. Stir in pizza sauce. Set aside. Place one biscuit in each of the cups in the tins. Press the dough across the bottom and up the sides of each cup to form a dough cup. Fill the dough cups with meat sauce. Sprinkle with cheese, then top with diced green and red pepper.
Bake for 20-25 minutes, or until biscuit edges are golden and cheese is melted. Using a spoon, loosen edges and remove from muffin tins promptly.
Get creative with it! Add any additional toppings you may like!