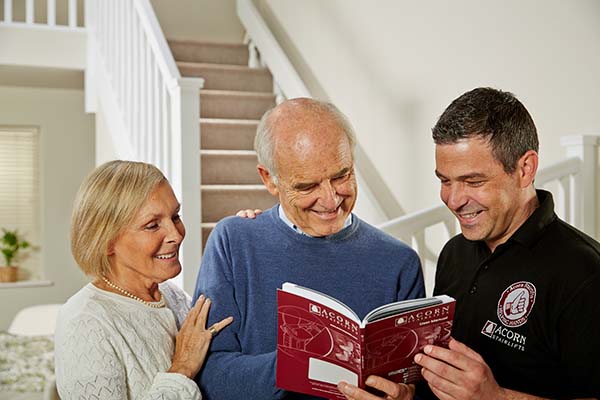 Installing a stairlift in your house not only allows you to reclaim access to your entire home but also restores your freedom. After surveying your home to ensure the perfect match for your stairlift, you'll need to prepare for installation. Here's an overview of what to expect.
A team member will perform a survey of your staircase either remotely or in person, and our team of professional technicians will get to work deciding which stairlift is suitable for you. When completed, they will schedule an installation time on a day that works well for you, sometimes the next day.
How Do I Prepare to Have My Stairlift Installed?
Getting your house ready is as simple as clearing the staircase of any obstructions such as cabinetry, clutter, or objects hanging near the stairs' actual steps. There is no need to remove wall décor or anything attached to a railing as the stairlift rail is attached to the stairs and not the wall. As long as there are no impediments when our excellent engineers come in, they are all good to get to work.
There's no reason to hire a cleaner or be concerned with a mess after installation. Our trusted technicians operate with a mobile workshop out of their vans. They have been trained in best practices to remain as neat, clean, and safe as possible inside your home.
How Much Time Does Installing a Stairlift Take?
The installation process itself will take anywhere from 1 to 5 hours. Based on your particular staircase's size, uniqueness, and type, straight stairlifts take less time, and curved stairlifts may take more. The assembly of an Acorn stairlift takes a relatively short period of time, but safety is a huge priority. The lifts go through rigorous inspections before they ever leave the manufacturer. Once installed in your home, our technicians ensure the rail and carriage are operating optimally and exceed our stringent safety standards.
At the end of the installation, once the stairlift is fully operational, the technician will ensure every aspect of the chair is checked out to its full extent. They will make sure you are entirely familiar with the lift, all of its operational needs, and safety. The technician will stay until you've tested the stairlift out and are pretty confident in your ability to use the lift consistently.
What Happens After Installation?
Before the technician leaves, they will likely recommend an aftercare service to keep your lift running like new. Annual maintenance is an excellent way to ensure the reliability of your stairlift for many years to come. Of course, in the unlikely event of a problem, there is always someone to assist you even after your technician leaves with our 24/7 support desk.
Installing an Acorn Stairlift is a perfect way to regain access to your whole home again. With a simple installation process, friendly technicians, and a supportive help desk, you'll be on your way to a new level of freedom.