We are all composed of a combination of characteristics that make us the unique individuals that we are.
It could be your fiery red hair, your fluency in Spanish, your disability, your dark skin, or your dedication to your religion, but we are all different.
How would you feel if you weren't allowed to shop at a store because of the color of your skin?
What if someone threatened your life because they don't agree with your religious beliefs?
Or you didn't get the job you were more than qualified for because of your disability?
What if people laughed and made fun of you every time you spoke because of your heavy accent?
Discrimination hurts. It not only denies us basic human rights, but it makes us feel ashamed of all of the special qualities that make us who we are—It makes us ashamed of our very existence.
It is for this reason that we observe Zero Discrimination Day, a day designed to raise awareness, educate, and bring to life the dream of a world with no discrimination.
What is World Zero Discrimination Day?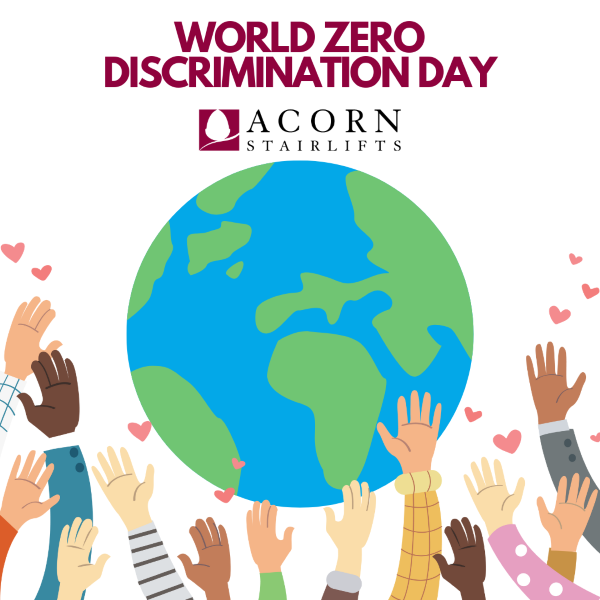 Led by UNAIDS, World Zero Discrimination Day "is a call to action for eradicating discrimination in all forms and promoting social inclusion and tolerance."
The sad reality is that not everyone experiences the same level of privilege.
Discrimination is when certain groups of people are treated differently and unjustly because of their ethnicity, race, sexual orientation, disabilities, sex, etc.
This discrimination is often rooted in fear, misinformation, a lack of information, and resistance to the unknown.
Discrimination is not only hurtful and unjust, but it is a violation of basic human rights.
By educating the public about discrimination and raising awareness of the issue, humanity as a whole becomes more educated, more understanding, and more patient towards others, regardless of whether someone is different than you.
Whether you have black skin, live with cerebral palsy, practice a different religion, or Chinese is your native language, "every individual has the right to live with dignity, regardless of appearance, race, geography, or belief."
When is World Zero Discrimination Day?
Zero Discrimination Day is on the 1st of March every year.
This year, in 2023, Zero Discrimination Day falls on a Wednesday.
How Did World Zero Discrimination Day Start?
World Zero Discrimination Day started out as an idea, created by former UNAIDS Director Michel Sidibé in December 2013. It was first observed on 1 March of 2014.
This day was inspired by World AIDS Day, a holiday that also combats the stigma, intolerance, and hostility towards people who live with HIV/AIDS.
Much like World AIDS Day, World Zero Discrimination Day was created with the intention of putting an end to the stigma, hostility, and unfair behavior towards all people, regardless of who they are, what they look like, where they come from, or what they believe.
This cause has also been promoted by the United Nations through organizing various events and launching campaigns designed to "celebrate human life and the freedom to live it with honor and dignity, irrespective of gender, race, religion, color, nationality, disabilities, and profession."
Now, countries all over the world unite to celebrate Zero Discrimination Day and stop discrimination once and for all.
Acorn Stairlifts: An Advocate for All Ages and Abilities
Here at Acorn Stairlifts, we don't consider ourselves just the world's top stairlift company. We know we are much more than that. Acorn's mission is not just to manufacture and sell the best stairlifts.
Acorn strives to improve the overall quality of our customers' lives by helping them regain their mobility, independence, and confidence, doing so with the help of our high-quality stairlifts and service.
Acorn Stairlifts is a strong advocate for people of all ages, abilities, and backgrounds.
We believe that no matter who you are or where you came from, everyone is entitled to the rights of independence and mobility.
Acorn Stairlifts Are Designed for All Different Ages and Abilities
Acorn strives to shatter stereotypes about stairlifts, one step at a time.
For example, when we think about stairlifts, the first thing that comes to mind is often an elderly person.
While there is no doubt that stairlifts are a safe solution for seniors who struggle with stairs, the necessity of a stairlift is not just limited to seniors.
From cancer patients that struggle to stand after exhausting chemotherapy, let alone climb stairs, to people suffering from debilitating back pain, stair lifts are helpful to a much larger demographic of people than most may realize.
Acorn Stairlifts knows every staircase and home is just as unique as the customer who buys it, and this is why we customize our stairlifts to fit you and your specific needs.
Click here to get started on your personal stairlift journey, and receive your free, no-obligation quote today.