The Acorn Sit/Stand Stairlift
A solution for a variety of mobility requirements.
Some circumstances - perhaps the confines of the staircase or the specific needs of the user - call for a different type of stairlift or additional features, and Acorn can help here too.
Our Sit/Stand model combines all the great features of our stairlifts. It's perfect in a home where two people need help using the stairs but both have different requirements from the stairlift.
If you want to know more, contact us and one of our friendly, local surveyors can visit at a time suitable to you.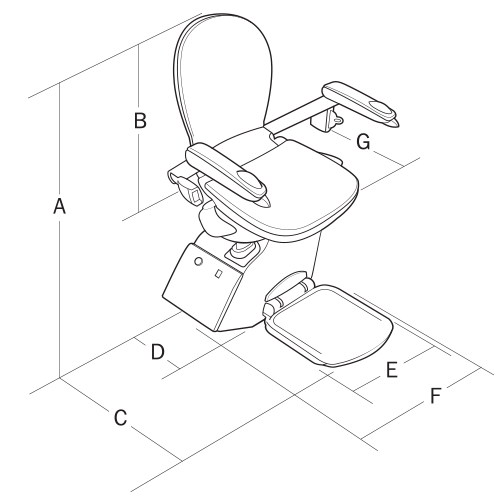 Dimensions
mm
inch
A
Overall height
1220
48
B
Height of Seat
440
17.25
C
Overall depth (from wall)
620
24.5
D
Overall depth (when folded)
210
8.25
E
Width of footrest
310
12.25
F
Overall width
605
23.75
G
Depth of seat
435
17
This stairlift is independently tested to comply with:
BS EN 81-40:2008 - European safety standard - 'Specification for powered stairlifts'.
CE mark - Acorn Stairlift meets the requirements of the applicable European Directive(s).
ASME compliant for mechanical and electrical hazards - ASME A18.1 and A17.5.
ISO 9386:2-2000 International standard for stairlifts.
Specifications
Motor output speed
120mm/s | 4.8inches per second - No greater than 0.15 meters per second
Method of drive
Rack and pinion
Power supply
24V DC (battery)
Maximum capacity
350lbs/158kg
Track
Extruded aluminium
Mains supply
50-60Hz, 100-240V AC
* NOTE: Acorn, in keeping with its policy of continual development, reserves the right to change specification without notice. All measurements are approximate.
Send me a FREE Quote
Simply enter your details below and a trusted Acorn representative will be in touch to arrange a home survey and provide your FREE no obligation quotation.
Why choose the world's most innovative stairlift?
Fits quickly and easily to the stairs, not the wall
Requires no structural changes to your home
Affordable and reliable with low running costs
Slimline and folds away conveniently when not in use
Optional hinged rail designed to eliminate any trip or hazard
Learn what our happy stairlift owners say...
If you want to know how an Acorn Stairlift can transform your life, don't take our word for it
— see what our customers have to say…
"Acorn had best presentation and best design idea for our curved staircase. 2 other companies we got bids were using unfamiliar subcontractors (not the mfg. of the stairlift). A local med. equipment co discouraged us from even thinking about it because "stairlifts" were unreliable and they had quick installing them. The primary reason we went with Acorn was dealing directly with the mfg. and Acorn employees no subcontractors. So far, the thing is working very well!"
R. B. C.
Read more customer stories